Schedule a Free Consultation
Start by selecting a date and time for the Zoom call. In the next step, you'll be asked to enter your info.
Are you not sure where to begin?
Let us take the guesswork out
When it comes to shopping for a new energy plan there are many different factors that change the price you actually pay.
Many energy companies publish a "Price per Kilowatt", but this is misleading, because 9 times out of 10 this price ONLY applies if your monthly energy usage is above some predefined monthly threshold.
Now ask yourself the following question:
What happens if I use less electricity? I'll just pay less, right?
WRONG! Although this seems obvious, this is not always the case!
Each energy plan is individually priced, and while some plans may appear cheaper, they can have a HUGE price difference when your usage changes.
If you live in Texas, you are likely using 2X electricity in the summer months, but might be paying 3X for that extra usage.
Let's be honest.
When was the last time you examined your electricity bill?
Are you really paying the "Price per Kilowatt" that was promised to you?
Getting The Cheapest Electric Plan Now Takes Only 5 Minutes!
We work directly with the top energy providers in Texas and provide you with a list of all their plans, one next to each other, in a way that is easy to compare, with the bottom line price next to each plan.
To find the best possible deal we encourage our customers to get a breakdown of their 12-month usage history, because this gives you an idea on how much electricity you are expected to use in the future.
Plug in these numbers into our calculator, and within seconds we will show you the cheapest plans customized to you, based on your usage patterns.
Once you find the cheapest energy plan, the enrollment process is a breeze. It normally takes 5 minutes which can save you 100's of dollars a year.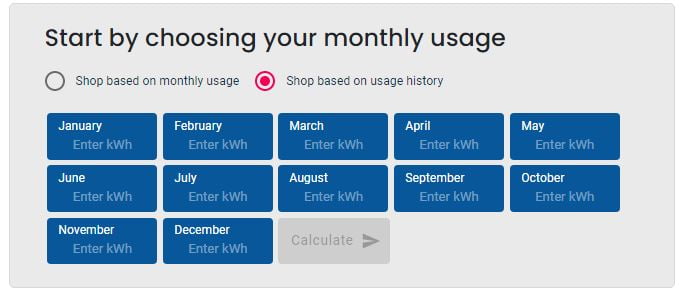 Forget the Excel spreadsheets and formulas and let us find the cheapest plan for you. Use our comparison page to get started!
Still not sure? Let us do the work for you
If you have been enrolled with the same energy company for more than 1 year, you are likely overpaying!
For a limited time, we are offering a FREE Concierge Service. Just share your service address with us and we will get the usage history on your behalf, run it through our calculators and advise you which plan is the most suitable for you.
Schedule a free concierge consultation below. Start by selecting a date and time for the Zoom call. In the next step, you'll be asked to enter your info.