Acacia Energy is a Texas-based electricity company that has over 30 years of combined experience. They provide pay-as-you-go electricity plans. Regardless of your credit scrote, you can find a plan with Acacia Energy. They make switching to prepaid electric plans as easy as plugging in your favorite device.
With Acacia Energy switching is a breeze. No credit check, no long-term contract, and no security deposits are required. Just affordable electricity with a plan tailored to fit everyone's needs.
Address: 11011 Brooklet Dr, Suite 220, Houston TX 77099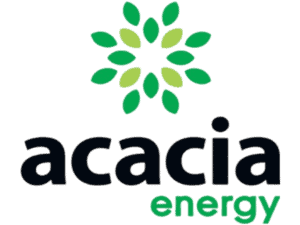 SlashPlan's content is independent and not influenced by our partners or affiliates. The trademarks, logos, and/or product names displayed on this webpage are the property of their respective owners. 
Acacia Energy - You have the Power To Choose Your Energy Company
Imagine being stuck with one boring old electricity provider, like being stuck with the same flavor of ice cream every day. Yawn! But in 2002, Texas said "no way" to that monotony and deregulated its electricity market. Now, customers can shop around like a kid in a candy store for plans and prices that fit their sweet tooth.
Electric choice in Texas means you get to pick your own electricity provider, no more boring vanilla utility companies! And this competition among providers is like a price war at the candy store, leading to lower prices and more options for customers.
Overall, electric choice in Texas gives customers the power to control their energy usage and costs, it's a real treat for the state's energy market!
Because of all of this competition you now can choose from over 100 energy plans in Texas.
SlashPlan saves you the time and hassle it would normally take to compare these plans and make an informed buying decision. We get live rates from energy companies and put them all in one dashboard so you can find the cheapest plan in a matter of seconds. SlashPlan calculates the final price for each plan, including all the hidden fees that the energy companies are trying hard to hide.
With SlashPlan you get a real apples-to-apples comparison and be confident that you're getting the cheapest plan in the market.
Acacia Energy Residential Electricity Plans
Free Nights / Free Weekend Electricity Plan
Acacia Energy is proud to offer free nights and free weekends electricity plans to all customers in Texas. These plans allow for electricity service with no deposit required, no credit check, and no long-term contract. They are a great choice for customers looking to save as much as possible while still enjoying the full comfort of their air conditioning or heating during the night or on weekends.
The free nights and free weekends electricity plans are available in many Texas cities including Houston, Dallas, Austin, and San Antonio. With Acacia Energy's prepaid, no deposit electricity plan, customers can easily switch to any other electricity provider without any inconvenience.
Customers can enjoy many benefits with the free nights and free weekends electricity plans from Acacia Energy, including:
No long-term commitment
No credit check
No ID/SSN required
Instant savings
No termination fee
Fast and easy sign-up.
Acacia Energy Business Energy Plans
Acacia Energy specializes in residential electricity services and does not offer plans for commercial clients. For the best commercial electricity rates, it is recommended to compare prices from different energy companies in the market.
Looking to establish or switch plans for your business? We can help!
Shopping for a business plan is time-consuming and tedious. SlashPlan can provide you with live rates so you can compare plans quickly and accurately.
At no cost or obligation to you, we will find the top plans from 30+ competing suppliers in your area.
If you choose to sign up, the entire process can be completed online with e-signatures, so you don't have to waste your precious time and resources.
Go to our Business Energy Comparison page to learn more.
Energy Companies in Texas
Are you searching for the perfect electricity provider in Texas? Look no further!
Our list of top-notch electricity companies makes it easy for you to enroll for service. Simply choose your preferred provider from our list, view their rates, and sign up in a snap!
Discover the best electricity provider for you today:
Get the inside scoop on energy companies with SlashPlan! We gather review statistics from various sources such as the PUCT Customer Complaint Statistics, the Better Business Bureau (BBB), Google Reviews, Trustpilot, and more. These statistics are then displayed on the provider's page for easy access. In case the statistics are not available on the provider's page, we provide links to these data sources so you can find the information quickly and easily.
Check out Acacia Energy customer reviews on Google.
Acacia Energy Customer reviews on the Better Business Bureau.
Customer complaints on the Public Utility Commission of Texas for Acacia Energy.
Acacia Energy Customer reviews on Trustpilot.
Acacia Energy Contract Length
Acacia Energy's prepaid electricity plans offer the freedom of no long-term contracts. Simply keep a positive account balance and your plan will remain active. And if you change your mind, you can cancel at any time, no strings attached.
How long does it take for service to start?
In Texas, most homes already have smart meters installed. If your home is one of them, you can expect service to begin either the same day or the next business day. However, please note that there may be a delay in service if the meter cannot be activated remotely or if your city requires a permit.
Acacia Energy Service Areas
You're in luck if you live in a deregulated area of Texas because Acacia Energy can service your home and/or business.
Acacia Energy provides service to the following utilities and service areas:
Acacia Energy Cancellation Fees
With prepaid plans, say goodbye to cancellation fees. Just keep your account balance positive, and you can cancel your plan at any time, without any additional cost.
Acacia Energy Customer Service
Need assistance? Reach out to Acacia Energy's customer service team by calling (877) 997-2946. You can also send them an email to customerservice@acaciaenergy.com and they'll get back to you as soon as possible.
Acacia Energy Bill Payment
If you need to pay your bill or refill your Acacia Energy account, use one the following payment methods:
Pay Online: When visiting their website, enter your account numbers and street addresses to pay bills.
Pay by Phone: Call (877) 997-2946 to pay over the phone.
Pay by Mail: Before mailing a check, find the updated mailing address on Acacia Energy's website.
Pay in Person:  Find participating payment locations here
If you live in a deregulated energy state like Texas you can save on your Electric Bill
Want to save on your electricity bill?
Compare Acacia Energy rates to other company rates in your city and find the best deal. Check out the list below and click on your city to find a  cheap electricity plan. If your city is not listed, enter your zip code for a great rate in your area.
Looking for a plan from a different provider?
See other energy plans below:
Please note: The rates above are updated periodically. Current energy rates may have changed since our last update. To get the latest energy rates in your area please go to our comparison page and enter your zip code. Energy rates shown above are for a residential monthly consumption of 1000 kWh in zip code 77043.
View all the electric plans that are available in your area
Not all plans are equal. Use our calculator to find the plan that best fits your needs
Enrollment takes about 5 minutes and can save you $50+ on average every month
Shop for a low-cost energy plan by Texas zip code
Find low energy rates by comparing and shopping smarter. Click on your zip code below to find cheap electricity plans in your area: