About Southwest Power and Light
Southwest Power and Light is a Houston-based energy provider that specializes in providing energy solutions to both commercial and residential customers. Established in 2008, this retail provider offers a unique option of a 100% renewable energy plan, which sets them apart from other providers in the area.
Address: 7660 WOODWAY DR SUITE 471A HOUSTON,TX 77063-1533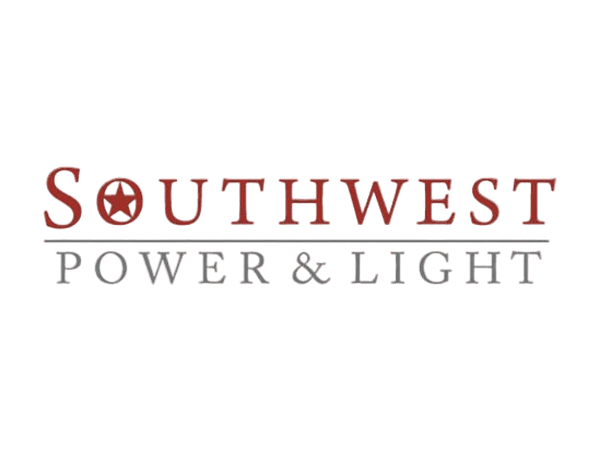 SlashPlan's content is independent and not influenced by our partners or affiliates. The trademarks, logos, and/or product names displayed on this webpage are the property of their respective owners. 
Southwest Power and Light - You have the Power To Choose Your Energy Company
In 2002, Texas introduced a deregulated energy market, which allows consumers to select their own electricity provider. This has led to increased competition among providers, resulting in lower energy costs and improved customer service for consumers. However, despite this, many residents of Texas remain unaware of the benefits of deregulation.
The deregulated market operates by enabling consumers to choose their preferred electricity provider, rather than being limited to the utility company that services their area. This creates competition among providers, who must offer competitive rates and plans to attract customers. This competition fosters innovation and improvement within the industry, resulting in improved service and lower costs for consumers.
Consumers can take advantage of this competition by comparing rates and plans from different providers to find the best option for their needs. They also have the option to switch providers or plans if a more favorable option becomes available.
However, the abundance of energy companies and plans in Texas can make it difficult for consumers to find the best option for them. To mitigate this, there are tools such as SlashPlan, which simplifies the process by comparing live rates from energy companies and displaying them in a single dashboard. It also calculates the final price for each plan, including any hidden fees, to provide a true apples-to-apples comparison. By using such tools, consumers can confidently shop for the best energy rate available to them.
Southwest Power and Light Residential Electricity Plans
Southwest Power and Light offers fixed and flex rate plans with contract lengths ranging from 3 months to 3 years. Customers can choose short contracts for flexibility or long contracts for lower rates. The company also offers temporary and month-to-month plans, as well as a Plant-A-Tree plan that supports tree planting with the Arbor Day Foundation. There are also plans with no minimum usage limits.
Southwest Power and Light Business Energy Plans
Southwest Power and Light specializes in providing customized energy solutions for businesses within its service area. Businesses can request a quote by contacting the company's customer service team via phone or email. The rates provided will be tailored to each business's unique needs and will take into consideration factors such as monthly usage rates, business size, and budget.
Looking to establish or switch plans for your business? We can help!
Shopping for a business plan is time-consuming and tedious. SlashPlan can provide you with live rates so you can compare plans quickly and accurately.
At no cost or obligation to you, we will find the top plans from 30+ competing suppliers in your area.
If you choose to sign up, the entire process can be completed online with e-signatures, so you don't have to waste your precious time and resources.
Go to our Business Energy Comparison page to learn more.
Switching energy companies?
Compare low-rate energy plans on SlashPlan
Moving to a new home?
You can now shop for a new plan without paying any Early Termination Fees
Save on your next energy bill
Enter your zip code below to compare the best power plans in your area. It's free!
Energy Companies in Texas
Are you tired of scouring the internet for the ultimate electricity provider in Texas? Well, your search is over, my friend!
We've done all the hard work for you and compiled a list of the crème de la crème of electricity companies. It's as easy as picking your favorite from our list, checking out their rates, and signing up faster than you can say "lightbulb moment"! So why wait? Find your perfect electricity match today!
Southwest Power and Light Reviews
At SlashPlan, we gather reviews and statistics from various sources to assist clients in making informed decisions.
If provider statistics are not readily available, we provide links to relevant data sources. Our review sources include PUCT Customer Complaint Statistics, BBB, Google Reviews, Trustpilot, and more.
Southwest Power and Light Service Areas
Southwest Power and Light provides service to the following utilities and service areas:
Southwest Power and Light Customer Service
Need assistance? Reach out to Southwest Power and Light's customer service team at:
Southwest Power and Light Bill Payment
If you need to pay your Southwest Power and Light bill, use one of the following payment methods:
Pay Online: Log in to your account and pay your bill online.
Pay by Phone: Call (866) 941-7975 to pay over the phone.
Pay by Mail: Payments can be mailed to: Attention: Customer Care PO Box 3079 Houston, TX 77253-3079
Pay in Person:  Use any of the following locations to pay in person
If you live in a deregulated energy state like Texas you can save on your Electric Bill
Want to save on your electricity bill?
Compare Southwest Power and Light rates to other company rates in your city and find the best deal. Check out the list below and click on your city to find a  cheap electricity plan. If your city is not listed, enter your zip code for a great rate in your area.
Looking for a plan from a different provider?
See other energy plans below:
Please note: The rates above are updated periodically. Current energy rates may have changed since our last update. To get the latest energy rates in your area please go to our comparison page and enter your zip code. Energy rates shown above are for a residential monthly consumption of 1000 kWh in zip code 77043.
View all the electric plans that are available in your area
Not all plans are equal. Use our calculator to find the plan that best fits your needs
Enrollment takes about 5 minutes and can save you $50+ on average every month
Shop for a low-cost energy plan by Texas zip code
Find low energy rates by comparing and shopping smarter. Click on your zip code below to find cheap electricity plans in your area: