Think Energy is a retail electricity provider that specializes in serving residential customers.
They offer fixed-rate electricity plans to ensure budget stability and protect customers from fluctuating prices commonly found in variable-rate products.
Signing up with Think Energy is easy and customers have access to all the information necessary to make informed decisions about their energy plans. The company prioritizes customer convenience and peace of mind, allowing customers to focus on more important matters.
Think Energy provides competitive pricing, direct customer service access, and cost-management products to enhance the customer experience.
Address: 11807 Westheimer Road Suite 550 PMB 808 Houston, TX 77077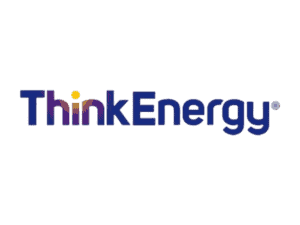 SlashPlan's content is independent and not influenced by our partners or affiliates. The trademarks, logos, and/or product names displayed on this webpage are the property of their respective owners. 
Think Energy - You have the Power To Choose Your Energy Company
Since 2002, Texas' deregulated energy market has given the power to the people to choose their own electricity provider, and save some dough on their monthly energy bills. But, for some, the process of deregulation can feel like a big ol' puzzle.
Basically, deregulation means you're no longer stuck with just one electricity provider, like a high school prom date you can't shake. Instead, you can shop around for the best rates and plans from a whole buffet of providers. And, just like a buffet, the more options there are, the more competition there is, which leads to lower prices, better customer service and some pretty innovative products and services.
But, with over 60 energy companies and 100s of plans to choose from, finding the perfect plan can feel like trying to find a needle in a haystack. That's where SlashPlan comes in, they'll help you compare the best energy plans on the market, without any hidden fees. So, you can confidently shop for the best energy rate and make the switch like a boss.
Think Energy Residential Electricity Plans
Think Energy offers a range of standard electricity plans, referred to as Think Simple plans.
Each of these plans features a distinct fixed-rate term, cancellation fee, and per kWh charge.
Think Energy guarantees a locked-in rate for the selected contract term for each Think Simple plan, with no additional or hidden fees.
As an example, some of the Think Simple plans offered include:
Think Simple 7
7 months fixed-rate
$100 cancellation fee
Think Simple 8
8 months fixed-rate
$100 cancellation fee
Think Simple 9
9 months fixed-rate
$100 cancellation fee
Think Simple 12
12 months fixed-rate
$110 cancellation fee
Think Simple 18
18 months fixed-rate
$175 cancellation fee
Think Simple 24
24 months fixed-rate
$175 cancellation fee
In addition to traditional electricity plans, Think Energy also offers a range of renewable energy plans, referred to as Think Clean plans. Similar to the Think Simple plans, these plans also feature distinct fixed-rate terms, cancellation fees, and per kWh charges. Think Energy guarantees a locked-in rate for the selected contract term for each Think Clean plan, with no additional or hidden fees.
Some of the Think Clean plans offered include:
Think Clean 12
12 months fixed-rate,
$150 cancellation fee
Think Clean 18
18 months fixed-rate
$175 cancellation fee
Think Energy Business Energy Plans
Think Energy offers customized electricity plans for businesses in Texas. These plans take into account the specific needs and usage patterns of commercial properties and offer lower rates to accommodate their higher energy consumption.
To access these plans, business owners can contact Think Energy's customer service team either by submitting an online quote request or by calling the customer service line to speak with a representative and obtain a quote over the phone.
However, like most other REPs, Think Energy does not make its business energy plans available to view online.
Switching energy companies?
Compare low-rate energy plans on SlashPlan
Moving to a new home?
You can now shop for a new plan without paying any Early Termination Fees
Save on your next energy bill
Enter your zip code below to compare the best power plans in your area. It's free!
Energy Companies in Texas
Searching for an electricity provider in Texas? Look no further.
Our list of top providers makes it easy for you to compare rates and sign up in a snap. Find your perfect provider today.
At SlashPlan, we gather reviews and statistics from various sources to assist clients in making informed decisions. If provider statistics are not readily available, we provide links to relevant data sources. Our review sources include PUCT Customer Complaint Statistics, BBB, Google Reviews, Trustpilot, and more.
Think Energy Service Areas
Think Energy provides service to the following utilities and service areas:
Think Energy Customer Service
Need assistance? Reach out to Think Energy's customer service team at:
Think Energy Bill Payment
Think Energy offers multiple ways for customers to pay their bills, including through the online portal, website, over the phone, by mail, and at cash payment stations.
Logged-in users can easily make one-time or set up automatic payments.
Guest users can pay online with their ESI ID and zip code.
You can also pay over the phone with a credit card, or by mailing a check or money order to:
ENGIE Retail, LLC at P.O. Box 841568, Dallas, TX 75284-1568
or by visiting one of the many nationwide cash payment stations.
If you live in a deregulated energy state like Texas you can save on your Electric Bill
Want to save on your electricity bill?
Compare Think Energy rates to other company rates in your city and find the best deal. Check out the list below and click on your city to find a  cheap electricity plan. If your city is not listed, enter your zip code for a great rate in your area.
Looking for a plan from a different provider?
See other energy plans below:
Please note: The rates above are updated periodically. Current energy rates may have changed since our last update. To get the latest energy rates in your area please go to our comparison page and enter your zip code. Energy rates shown above are for a residential monthly consumption of 1000 kWh in zip code 77043.
View all the electric plans that are available in your area
Not all plans are equal. Use our calculator to find the plan that best fits your needs
Enrollment takes about 5 minutes and can save you $50+ on average every month
Shop for a low-cost energy plan by Texas zip code
Find low energy rates by comparing and shopping smarter. Click on your zip code below to find cheap electricity plans in your area: